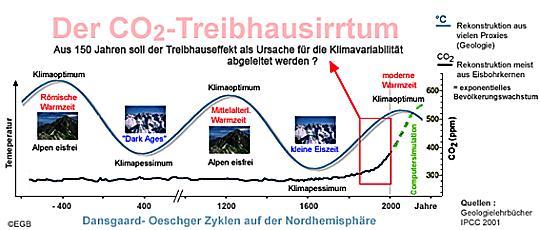 RealClimate has a beautiful explication of the above curve, which was presented by climate change denier E.G. Beck. The intention of the curve is to show that the current rise in global mean temperature is explainable as part of a naturally occurring sequence of cycles having a period of approximately 1500 years ( the Dansgaard-Oeschger cycles). From the picture, it seems that we should be currently near the peak of the most recent cycle. But if one tries to extrapolate from the leftmost cycle, one finds the peak should not occur until the year 2700 or so. The curve is smooth and beautiful…seems a good fit. So what gives?
But wait — let's have a look at the key at the bottom. Seems there's been a break inserted between 400AD and 1200AD, deleting 400 years from the record! So is there a corresponding discontinuity in the wiggly temperature curve? No way. He simply shrunk the x-axis down in order to make his data fit. Lovely.
At what point can we move on from this ludicrous debate and start trying to live in a way which isn't destroying our home?